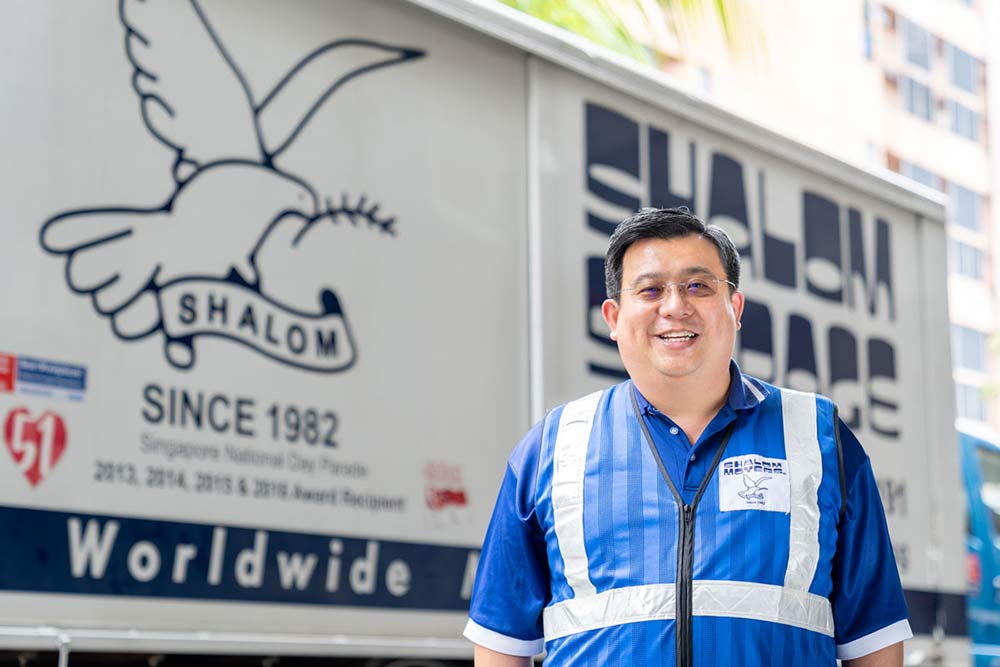 Find out about measures that Shalom Movers put in place to be SGSecure-ready, by creating an inclusive workforce and vigilance culture. (Contents published by: Ministry of Manpower )
Chief Executive Officer, Mr Gideon Lam, explains that running a successful moving business entails more than just providing manpower and drivers to move goods. Regular training and bonding activities help keep staff united as a team so that everyone stays vigilant and delivers quality service for their clients.
Established in 1982, Shalom Movers, has 200 employees, and specialises in moving and storage services for residential and commercial clients as well as international relocation services.
Vigilance means never letting our guard down
With an increase of vehicle-ramming attacks in recent years, the company is not taking any chances when it comes to being prepared. Their vehicles are equipped with telematics system for fleet management. This provides the company with an overview of their vehicles and drivers, tracked through personalised ID tags, and it also monitors unusual activities such as exceeding the speed limit or veering off-course.
The company constantly develops and reviews plans for rapid response in crisis situations and prepares for situations where a vehicle is stolen, or when an unauthorised driver is driving their vehicle. Every vehicle is also equipped with an autolock feature in place for safety when that vehicle is on the move.
" If at any one time, anybody spots anything, everyone is informed. Everybody has a part to play and everybody is involved. "
– Mr Gideon Lam, Chief Executive Officer, Shalom Movers
Staff training also helps to build a company culture where people look out for one another. The team members are trained to safeguard their vehicles and the possessions of their customers.
Creating a safe workplace with safe practices
There is a clear focus on safety at the workplace, including within the Shalom warehouses.
Apart from installing fire extinguishers at required locations and ensuring that the AED equipment is in place, security guards on the premises are also trained to look out for suspicious behaviour and items.
As the company also provides storage services, they work with customs officers and airport police on ways to identify suspicious bags.
To keep staff up to date on safety training, the company conducts fire drills twice a year across multiple locations and warehouses. This adds up to about 30 fire drills in a year.
" For us, it is always safety first. If we put in preparation efforts today, it can help us recover faster during crisis and reduce downtime. " – Mr Gideon Lam
Cybersecurity
As the company handles moves for hundreds of customers, they are privy to a lot of fleet and personal data. To upkeep the trust which their customers place in them, the company works with an external professional vendor to protect their information and systems. Apart from firewalls and login access for confidential data, they also have auto and multiple backups in their servers at multiple locations.
They were one of the first few companies with the foresight to adopt personal data protection and were trained by lawyers and professionals who were familiar with the procedures even before the Personal Data Protection Council (PDPC) implemented the data protection laws.
Creating an inclusive workforce and vigilance culture
Having inclusive practices keeps Shalom's diverse workforce united. The company hires persons with disabilities and their staff age range spans from 17 to 66!
The company emphasises cohesiveness through training together and team building activities such as playing soccer, cycling, bird watching and food trips, among others. Games such as soccer also involve the whole community.
Partnering the community
Shalom Movers works with many government agencies as well as the public as part of Total Defence efforts. For example, the company worked closely with SPF in a Ground Deployment Exercise for Logistics Week and World Skills Day.
The company participates in 30 outreach programmes a year and that includes educating the public about safe driving and road safety.
To promote cohesiveness of the community, Shalom Movers has collaborated with the People's Association's Love on Wheels to distribute food to needy families in the past six years.
Such efforts help to build rapport with the community and is key to developing a stronger support network especially in times of crisis.